Welcome back to the IDEAS For Us blog, where we explore pressing environmental issues and innovative solutions. This is a follow up post on the Top Environmental Issues in Florida.  Today, we set our sights on the Sunshine State, dissecting the delicate balance between progress and preservation. Join us on a journey through Florida's environmental challenges, where water scarcity, land use, hurricanes, and coastal erosion converge, demanding our attention and action.
---
Water Scarcity: Tapping into Florida's Thirst
n the idyllic expanse of Florida, where sunshine and sparkling waters seem boundless, the paradox of water scarcity emerges as a pressing concern. Contrary to the state's aquatic abundance, certain areas within Florida find themselves grappling with the challenge of water scarcity. This issue stems from a complex interplay of factors, including the relentless march of population growth, an ever-increasing demand for water resources, and the unpredictable shifts in precipitation patterns. The urgency of addressing this paradox becomes apparent as we witness a growing strain on the availability of this precious resource, emphasizing the need for immediate action to secure a sustainable and resilient water future for the Sunshine State.
As we navigate through the landscape of Florida's water scarcity, it becomes crucial to dissect the intricate web of causes and effects. Population growth, a double-edged sword of progress, places an escalating burden on water supplies, exacerbating scarcity concerns. The heightened demand for water resources, coupled with the unpredictability of precipitation patterns, further intensifies the challenge. To chart a course toward a watertight future, our exploration delves into the realm of sustainable water management practices and innovative solutions. By embracing forward-thinking strategies, Florida can not only address its current water scarcity issues but also establish a blueprint for responsible water stewardship, ensuring a harmonious balance between human needs and the preservation of this vital natural resource.
In this journey to tap into Florida's thirst, we shed light on the importance of fostering a collective commitment to sustainable water practices. From embracing conservation efforts to implementing cutting-edge technologies, our exploration unveils a spectrum of solutions aimed at safeguarding Florida's water future. It is through this concerted effort that we can navigate the challenges of water scarcity, steering towards a future where the abundance of sunshine and sparkling waters coexists seamlessly with a responsible and sustainable approach to water management.
---
Land Use and Urbanization: Paving Paradise, but Can We Put Up a Parking Lot?
---
Hurricane Vulnerability: Weathering the Storm in the Sunshine State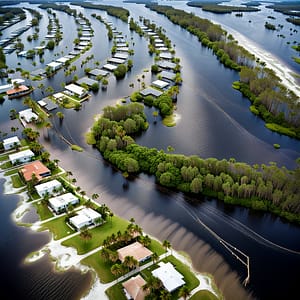 ---
Coastal Erosion: Shifting Sands, Sinking Concerns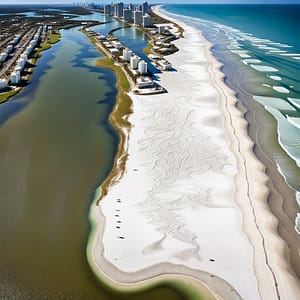 The allure of coastal living in Florida comes with a price – coastal erosion. In areas marked by high levels of development, the loss of beaches and coastal habitats is a pressing concern. Journey with us as we explore the ripple effects of coastal erosion on both wildlife and human communities. Can we find a delicate balance between maintaining our picturesque coastlines and safeguarding the delicate ecosystems they harbor?
---
As we navigate Florida's triple threat of water scarcity, urbanization, hurricanes, and coastal erosion, one thing becomes abundantly clear: our actions today shape the future of this unique ecosystem. Join IDEAS For Us as we delve into the heart of these challenges, seeking sustainable solutions and advocating for a brighter, greener tomorrow. Stay tuned for more insights and inspiration on our ongoing journey to make a positive impact on Florida's environment. Together, we can turn the tide towards a more sustainable and resilient future.